The Importance of Roof Cleaning
Taking care of the roof of your home is essential to maintaining its function and appearance. It's all too easy to forget about the roof when it sits out of sight, but regular roof cleaning – even if you don't think it needs it – is a must. Without careful attention, dirt, grime, moss, lichen, and algae can accumulate on your roof tiles over time leading to decay as well as an undesirable aesthetic. Cleaning not only prevents damage from water infiltration but also rescues roofs by making them look like new again!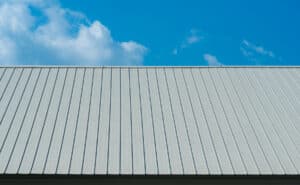 Benefits of Regular Roof Cleaning 
Regular roof cleaning provides a multitude of advantages that are often overlooked by homeowners. For one, it can significantly increase the longevity of your roof. Dirt, debris, and other outdoor elements can cause wear and tear, leading to deterioration and shortening the lifespan of your roof. By hiring a professional to clean your roof regularly, you can prevent this from happening and save thousands of dollars on repairs or replacements down the line. Additionally, a clean roof enhances your home's aesthetic appeal, making it look more attractive and well-maintained. Finally, regular roof cleaning reduces the risk of damage to your home by eliminating potential problems like clogged gutters, algae growth, or mold. 
How to Spot Potential Roof Problems 
When you think of home maintenance, the roof may not be the first thing that comes to mind. However, it's important to keep an eye out for potential roof problems before they become major issues. One telltale sign is discoloration on your roof, which could indicate damage or aging. Water stains are another red flag, as they suggest water is seeping through your roof and into your home. And if you spot moss growth, that could mean your roof is retaining moisture, which can lead to damage. By regularly inspecting your roof and keeping an eye out for these warning signs, you can catch potential problems early and save yourself from costly repairs down the road.
What to Look for in Roof Cleaners 
When it comes to maintaining your home, don't overlook your roof! Keeping your roof clean and free of debris is vital to its longevity. However, not just anyone can be trusted with this task. You need experienced professionals who know what they're doing and have the right equipment to get the job done safely and efficiently. Look for companies that have a track record of success and know how to handle any challenges that may arise.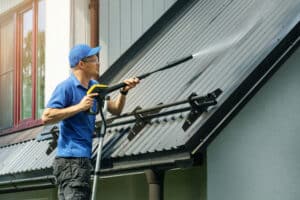 Tips for Choosing a Roof Cleaner
A clean roof is not only nice to look at, but it also helps to prolong the life of your roof. As such, it is important to choose the right roof cleaner for the job. One of the best ways to ensure that you select the right cleaner is to do your research. Look for previous customer reviews online and ask for references from potential cleaners. This will allow you to get a sense of the quality of work that they provide and can help you make an informed decision. 
What to Expect from a Roof Cleaning Service 
Keeping your roof clean and well-maintained is essential to the longevity and overall aesthetic appeal of your home or property. A reputable roof cleaning service should provide a detailed inspection to assess the condition of your roof and identify any problem areas before beginning the cleaning process. With a range of effective cleaning techniques and environmentally friendly solutions, the cleaning process should effectively remove dirt, debris, and unsightly stains from your roof without causing damage to your shingles or tiles. By investing in a professional roof cleaning service, you can expect to extend the life of your roof while giving your property a fresh and polished look.
(608) 465-4634